http://solarcooking.wikia.com/wiki/CooKit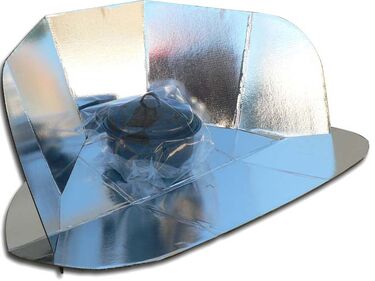 Check this link to see information related to solar ovens. There is a DIY plan to make your own for under $10, then google up some recipes and cook away. Cook with a solar oven like you would a slow cooker, or you can even bake- the person who gave me the link said he made some AWESOME banana bread in his!
There is information about Solar Cookers International, from which you can purchase a very sleek version of the solar oven for $25, supporting there work in impoverished areas of the world. Places that are ravaged by poverty and disease still use cooking fires, which as romantic as they sound, produce a lot of smoke and force people to keep buying and burning coal or other fuels. The smoke is very unhealthy, especially for someone suffering diseases such as AIDS or who are otherwise weakened, or the young and elderly as well. By providing these solar ovens, SCI is helping people to afford more food and to stay healthier by avoiding smoke, plus doing the earth a favor, reducing burning that releases greenhouse gases.
Plus, I love the idea of putting out a suntea jar and the solar oven on my picnic table, and having a delightful dinner all ready to enjoy al fresco. Keep the house cool, keep power bills lower, and do the earth a favor! Please feel free to send us your favorite solar cooker recipes to share! NAMASTE!
http://solarcooking.wikia.com/wiki/CooKit